I and my wife were forced to separate because of her prior immigration violation. Lawyers obtained a waiver for my wife at the Consulate in Europe. She is back to the United States with me.

About Us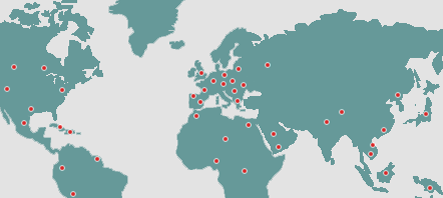 Welcome to Bokshan Law Firm LLC
Our law firm provides full-service legal advice and representation to individuals and businesses in all matters involving U.S. Immigration and Naturalization Law. For many years we have been providing excellent services to our clients located throughout the United States and around the world.
We represent clients ranging from private individuals to global manufacturing companies, information technology corporations, marketing firms, hospitals, physicians, universities, public schools, the entertainment industry, and other businesses and non-profit organizations.
Experience
Our attorneys limit their practice to the Immigration and Naturalization matters. Through constant education, many years of practice and attention to details we developed deep knowledge of the United States Immigration system. We represent our clients before USCIS, U.S. Department of State, U.S. Department of Labor and Immigration Court.
Attorneys in our firm are members of the American Immigration Lawyers Association (AILA).
Personal Service
We understand the far-reaching and often devastating effects of immigration on our client's lives. We develop a strategy for every case according to the client's goals and guide clients with step-by-step legal advice to ensure compliance with applicable laws.
Our attorneys are easily accessible and would personally answer client's questions. You will not be speaking to the secretary or paralegal about your urgent matter.
If we do not believe that we can help your situation, we will advise you accordingly.
Fees
We typically charge a flat (contract) fee for our services. In complex procedures such as appeals, waivers or deportation cases, we may choose to set separate fees for specific stages of the procedure or charge on hourly rate. We clearly explain and discuss our fees during the initial consultation and offer several payment arrangements.
We charge a fee for an initial consultation for analysis and evaluation of your case. If our firm is hired to perform legal services on the day of the first consultation, we will waive the consultation fee.
Telephone consultations are available upon prior arrangement and subject to a consultation fee. We will ask you to provide all relevant documentation for our review as well as a consultation fee payment prior to the telephone consultation.
For our services we accept: checks, cash, and credit cards.
Contact Us
You can ask to speak personally to an attorney. You will be asked several basic questions which would allow us to determine whether you have a case and whether we can help you.
We can provide you with a quote typical for your case and explain what you need to bring for your first consultation. Typically, we will ask you to bring your passport, visa, I-94 card, copies of any prior cases and any other relevant documentation.
First Consultation
During the consultation we will review your documents, listen to your story, interview you in depth and advise you of your legal options. Our first meeting will last between 45 minutes to 1 hour. We will explain the procedures, deadlines, potential problems and timeframes. We will answer all questions that you may have.
Costs, fees and payment arrangements will be discussed at the same time.
Confidentiality
All communications between our attorneys, potential clients and clients are strictly confidential. Your personal information will not be released without your permission. You should not be afraid to talk to an attorney about your case. In order to provide you with effective service, we expect that all pertinent facts in your case are disclosed to us as soon as possible.
How to Retain an Attorney
An attorney is hired, and attorney-client relationship is established when a formal written engagement agreement is signed and initial payment is paid toward our services on your case.
What it means to have an Attorney working for You
We will prepare all required documentation and represent you before every government agency involved with your case. We will receive a copy of every correspondence sent to you by the government agencies and notify you of all developments in your case. We will be with you to represent you at interviews and examinations at the U.S. Citizenship and Immigration Service. Attorneys of our firm will guide you through a complicated and confusing system of U.S. immigration laws. We work hard for our clients to minimize unreasonable delays.
We will use many years of our experience for the benefit of your case.
We serve clients throughout the United States and USCIS and Immigration Courts in Hartford, Connecticut and Boston, Massachusetts.
Contact the Bokshan Law Firm now.